Investors were cautious prior to Friday's Group of Seven meeting and June 12's summit between the United States and North Korea. The G-7 was split between the U.S. and the six remaining countries including Japan, Germany, France, Italy, UK and Canada. The points of contention primarily dealt with international trade and whether Russia should be invited back to participate in the discussions after being ejected four years ago for its annexation of Crimea. Equities advanced in Asia and the United States on the week but they retreated in Europe. Also looming is next week's trifecta of central bank meetings (Federal Reserve, European Central Bank and Bank of Japan).
Both the Reserve Bank of Australia and of India announced their monetary policy decisions during the week. The RBA kept its policy interest rate unchanged at 1.5 percent where it has been for almost two years while the RBI surprised and raised its policy rate to 6.25 percent from 6.0 percent. The RBI's last move lowered its policy rate by 25 basis points in August 2017.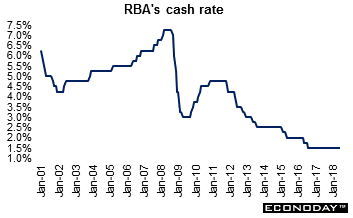 As widely expected the Reserve Bank of Australia kept its cash rate at 1.5 percent where it has been since August 2016. Progress on reducing unemployment and meeting inflation targets was expected to be "gradual". RBA governor Philip Lowe highlighted recent political instability in Italy, concerns about the direction of international trade policy in the United States along with economic developments in a few emerging market economies.
The RBA said wage growth remained low but that "the stronger economy should see some lift in wage growth over time". Inflation was also expected to remain low. The RBA reiterated its outlook for Australian economic growth. It expects gross domestic product to pick up to "a bit above" 3 percent in 2018 and 2019. First quarter GDP was released the day after the meeting and increased a quarterly 1.0 percent and 3.1 percent above the year ago.
Stronger exports and non-mining business investment in particular are expected to support headline growth despite uncertainty about the prospects for consumer spending. It was noted that labour force participation and employment are trending higher and reiterated that continued jobs growth will eventually translate into stronger growth for wages.
The RBA's assessment of the inflation outlook was unchanged, with price pressures expected to remain subdued and to strengthen only gradually as economic conditions improve. The central forecast for headline CPI inflation is a bit above 2.0 percent in 2018.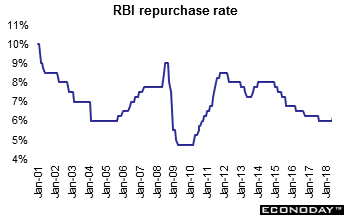 India's Monetary Policy Committee raised its policy repo interest rate by 25 basis points, the first increase since January 2014. All six members of the MPC voted for an increase citing risks to the inflation outlook from recent increases in global oil prices and robust domestic demand. The next six month's inflation outlook was revised higher to a range of 4.8 percent to 4.9 percent from 4.4 percent to 4.7 percent previously.
Growing inflation concerns prompted the RBI to raise its policy rate for the first time in over four years, but it surprised by keeping its stance "neutral" instead of changing to "tighten". The committee "felt that there was enough uncertainty for us to keep to the neutral stance and yet respond to the risks to (the) inflation target that have emerged in recent months," RBI Governor Urjit Patel told reporters.
India's April retail inflation rose to a three-month high of 4.58 percent, up from 4.28 percent in the prior month. The law mandates the central bank to keep inflation at 4 percent, allowing for a 2 percentage points slippage on either side. Patel said at a press conference that the neutral stance allowed for flexibility in the upcoming meetings.
2017
2018
% Change
Index
Dec 29
June 1
June 8
Week
2018
Asia/Pacific
Australia
All Ordinaries
6167.3
6104.0
6156.8
0.9%
-0.2%
Japan
Nikkei 225
22764.9
22171.4
22694.5
2.4%
-0.3%
Topix
1817.56
1749.17
1781.4
1.8%
-2.0%
Hong Kong
Hang Seng
29919.2
30492.9
30958.2
1.5%
3.5%
S. Korea
Kospi
2467.5
2439.0
2451.6
0.5%
-0.6%
Singapore
STI
3402.9
3427.5
3436.4
0.3%
1.0%
China
Shanghai Composite
3307.2
3075.1
3067.2
-0.3%
-7.3%
India
Sensex 30
34056.8
35227.26
35443.7
0.6%
4.1%
Indonesia
Jakarta Composite
6355.7
5983.6
5993.6
0.2%
-5.7%
Malaysia
KLCI
1796.8
1756.4
1778.3
1.2%
-1.0%
Philippines
PSEi
8558.4
7630.3
7740.7
1.4%
-9.6%
Taiwan
Taiex
10642.9
10949.1
11156.4
1.9%
4.8%
Thailand
SET
1753.7
1719.8
1722.0
0.1%
-1.8%
Europe
UK
FTSE 100
7687.8
7701.8
7681.1
-0.3%
-0.1%
France
CAC
5312.6
5465.5
5450.2
-0.3%
2.6%
Germany
XETRA DAX
12917.6
12724.3
12766.6
0.3%
-1.2%
Italy
FTSE MIB
21853.3
22109.6
21356.0
-3.4%
-2.3%
Spain
IBEX 35
10043.9
9632.4
9746.3
1.2%
-3.0%
Sweden
OMX Stockholm 30
1576.9
1569.5
1555.9
-0.9%
-1.3%
Switzerland
SMI
9381.9
8618.5
8512.1
-1.2%
-9.3%
North America
United States
Dow
24719.2
24635.21
25316.5
2.8%
2.4%
NASDAQ
6903.4
7554.3
7645.5
1.2%
10.8%
S&P 500
2673.6
2734.6
2779.0
1.6%
3.9%
Canada
S&P/TSX Comp.
16209.1
16043.5
16202.7
1.0%
0.0%
Mexico
Bolsa
49354.4
45013.1
45939.5
2.1%
-6.9%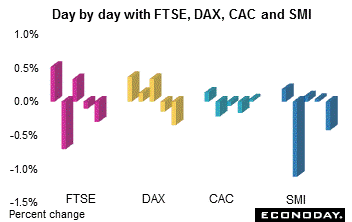 European equities sagged Friday as investors preferred to stay on the sidelines as the Group of Seven meeting in Canada began in a fractious environment. The majority of the European markets ended Friday's session and the week in negative territory. Investors were in a nervous mood as tensions flared between the U.S. and its allies ahead of the G-7 meeting. And nerves were taut as the U.S./North Korean meeting on June 12 also loomed. On the week, the FTSE and CAC retreated 0.3 percent each, the SMI retreated 1.2 percent but the DAX added 0.3 percent. The FTSE, CAC and SMI retreated for a third consecutive week. Risk appetite dried up during the week as a new Italian government settled in and the European Central Bank indicated it might end its ultra-loose monetary policy earlier than expected.
Economic data during the week were mixed. Germany's merchandise trade surplus decreased to €19.4 billion from €21.6 billion in March. Exports were down a monthly 0.3 percent while imports advanced 2.2 percent. Germany's industrial production decreased unexpectedly in April. Output dropped 1 percent on the month, reversing a revised 1.7 percent increase in March. France's industrial production declined for the second straight month in April on weak mining activity. Output dropped by 0.5 percent unexpectedly following March's 0.4 percent decrease.
Markets have calmed following the formation of a new Italian coalition government of two anti-establishment parties, while an increase in European bond yields also helped banking stocks following hints from rate-setters that the ECB could announce the end of bond buying as soon as Thursday's ECB meeting. Italy's FTSE MIB fell 3.4 percent as unease about the new government's spending plans put fresh pressure on Italian government bonds and the governor of the Bank of Italy warned that the country risked "falling off a cliff" if it didn't carefully manage public spending.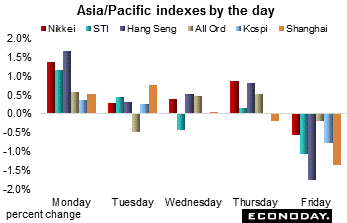 Even though virtually all Asian equity indexes advanced on the week — only the Shanghai Composite retreated — they all sagged on Friday to end the week. They succumbed to selling pressure Friday as investors adopted a cautious stance ahead of G-7 summit starting in Canada later in the day along with upcoming U.S. Federal Reserve, European Central Bank and Bank of Japan monetary policy meetings during the week. The US/North Korea summit on June 12 was also very much on investors' radar.
The Shanghai Composite was the only index to retreat on the week, declining 0.3 percent. It was its third straight weekly loss amid renewed trade and liquidity concerns of the stock market. Even though they tumbled Friday, the Nikkei added 2.4 percent on the week. Friday's decline heralded the caution that set in ahead of contentious G-7 talks and the historic US/North Korea summit.
Asian economic data were mixed during the week. Japanese data disappointed with April household spending declining for the third of four months this year. Both of the May services and composite PMIs slid from April's readings. First quarter revised gross domestic product contracted, unchanged from the first estimate. Australia's first quarter GDP and April retail sales were stronger than anticipated but the trade surplus narrowed. China's May merchandise trade surplus increased by less than anticipated.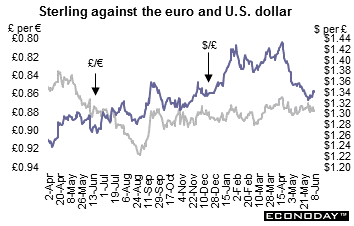 The U.S. dollar retreated against all of its major counterparts including the pound sterling, euro, yen, Swiss franc and the Canadian and Australian dollars. Sterling appeared to be stuck in a trading range as the Brexit negotiations rumbled on. After sliding from a 2018 high of more than $1.43 in April to below $1.33 as a resurgent dollar hit the currency and expectations of a Bank of England interest rate rise collapsed, the pound has since edged slightly higher. A widely-watched survey of the dominant services sector suggests that the weaker economic momentum in the first quarter was temporary and the economy is recovering. A major political crisis in Italy and an escalating trade dispute between the United States and other major economies have meanwhile dominated trading in currency markets, keeping sterling flows relatively quiet.
Negotiators are hoping an EU summit on June 28 and 29 can break a deadlock over the terms of Britain's divorce from the bloc, with time running out before Britain formally leaves in 2019. The major sticking points are over the Northern Irish land border with the Republic of Ireland and over a future agreement for financial services.
2017
2018
% Change
Dec 29
June 1
June 8
Week
2018
U.S. $ per currency
Australia
A$
0.779
0.757
0.760
0.4%
-2.5%
New Zealand
NZ$
0.709
0.699
0.704
0.7%
-0.7%
Canada
C$
0.796
0.771
0.773
0.2%
-2.8%
Eurozone
euro (€)
1.194
1.166
1.177
1.0%
-1.5%
UK
pound sterling (£)
1.344
1.335
1.341
0.5%
-0.3%
Currency per U.S. $
China
yuan
6.534
6.420
6.407
0.2%
2.0%
Hong Kong
HK$*
7.816
7.846
7.846
0.0%
-0.4%
India
rupee
64.081
67.063
67.513
-0.7%
-5.1%
Japan
yen
112.850
109.570
109.470
0.1%
3.1%
Malaysia
ringgit
4.067
3.979
3.989
-0.2%
2.0%
Singapore
Singapore $
1.338
1.339
1.335
0.3%
0.2%
South Korea
won
1070.630
1074.950
1075.880
-0.1%
-0.5%
Taiwan
Taiwan $
29.775
29.847
29.811
0.1%
-0.1%
Thailand
baht
32.696
32.036
32.033
0.0%
2.1%
Switzerland
Swiss franc
0.979
0.9884
0.987
0.2%
-0.8%
*Pegged to U.S. dollar
Source: Bloomberg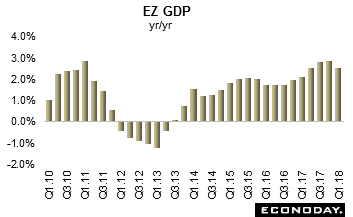 First quarter gross domestic product was unrevised at a quarterly increase of 0.4 percent, little more than half of the previous quarter's rate and equaling the weakest performance since the second quarter of 2015. The annual expansion rate was 2.5 percent, also matching last month's estimate and 0.3 percentage points short of its fourth quarter mark. The first look at the national accounts revealed that the quarterly deceleration was mainly was due to a sharp turnaround in the contribution from net foreign demand which masked some more positive aspects among the domestic expenditure components. In particular, household spending was up 0.5 percent, more than double the fourth quarter rate, and while gross fixed capital formation slowed, 0.5 percent after 1.3 percent, growth remained firmly in positive territory. Elsewhere, government spending (zero percent after 0.3 percent) weighed slightly while business inventories (0.2 percentage points) provided a modest boost. With exports falling 0.4 percent after a 2.2 percent surge and imports off 0.1 percent following a 1.5 percent increase, net trade subtracted a tick from quarterly growth having added fully 0.4 percentage points last time.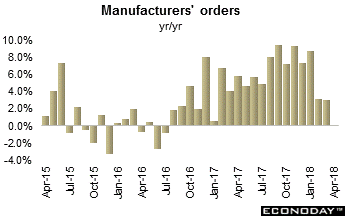 April manufacturers' orders tumbled a monthly 2.5 percent following a slightly steeper revised 1.1 percent decline in March. It means that orders have now declined for four months in a row. Annual growth was zero percent, down from 3.0 percent last time and the first non-positive reading since July 2016. The latest monthly headline decline was driven by capital goods which dropped 5.6 percent. However, consumer goods were also off a sizeable 2.2 percent. By contrast, basic goods rose 2.5 percent. Regionally orders were down 9.9 percent in the Eurozone and were up 5.4 percent from the rest of the world.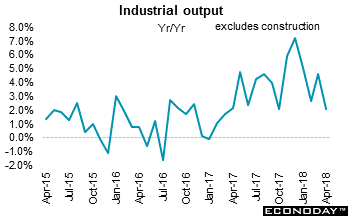 April industrial production dropped a monthly 1.0 percent after increasing 1.7 percent in March. April's decline was the third decline in five months. Annual growth slowed from 3.9 percent to 2.0 percent. The monthly headline decrease would have been steeper but for a 3.3 percent bounce in construction. Elsewhere, capital goods were down 1.3 percent, consumer goods 2.1 percent and intermediates 2.0 percent. Manufacturing output contracted 1.7 percent and so fully unwound March's 1.6 percent gain. There was also a 1.6 percent fall in energy. Excluding construction, output was down a monthly 1.7 percent but was 2.0 percent higher on the year.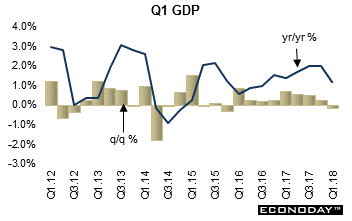 First quarter gross domestic product declined an unrevised 0.2 percent on the quarter and was down at an annualized rate of 0.6 percent. In the three months to December, Japan's GDP was up 0.3 percent on the quarter and 1.0 percent in annualized terms. On the year, GDP was up 1.1 percent. Revised growth estimates for most components of GDP have also been little changed compared with preliminary estimates. Household consumption is estimated to have fallen 0.1 percent on the quarter. Private residential investment is now estimated to have fallen by less than the preliminary estimate and growth in private non-residential investments also been revised slightly higher, but the net effect on headline growth is small and offset by a larger fall in private inventories. Meanwhile the contribution to headline growth from public demand and net exports are both unchanged from earlier estimates at zero and 0.1 percentage points respectively.
April retail sales advanced a monthly 0.4 percent after no change in March. On the year, sales advanced 2.6 percent, down from 3.2 percent in March. Retail sales growth in April reflected monthly gains in three of the six major categories of spending. Food retailing, the largest category, rose 0.3 percent on the month, while sales for household retailing, the second largest category, advanced 0.7 percent. Sales also increased by 1.3 percent for cafes, restaurants and takeaway food services. This was offset by monthly declines in sales for clothing, footwear and accessory retailing, "other" retailing, and department stores.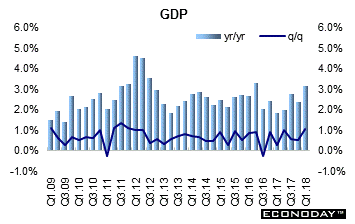 Gross domestic product increased a quarterly 1.0 percent in the three months to March, up from a revised 0.5 percent in the three previous months to December. On the year, GDP was up 3.1 percent after increasing 2.1 percent the three previous months. Stronger private investment was a factor for accelerating GDP growth adding 0.2 percentage points. Net exports also made a strong contribution of 0.4 percentage points, unchanged from the previous quarter. Household consumption, however, made a smaller contribution to the headline of 0.2 percentage points, down from 0.6 percentage points previously, with the contribution of government spending also falling from 0.4 percentage points to 0.3 percentage points.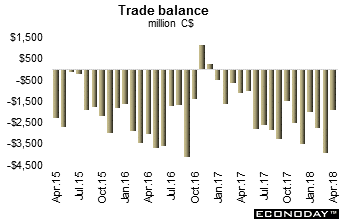 April merchandise trade deficit narrowed more than anticipated from C$3.9 billion to C$1.9 billion. Exports rose a monthly 1.6 percent to a record level while imports were down 2.5 percent. Exports recorded the sixth increase over the past seven months. Higher exports of metal and non-metallic mineral products, consumer goods and energy products were partially offset by lower exports of aircraft and other transportation equipment and parts. On the year, total exports rose 3.1 percent. After reaching a record high in March, imports fell 2.5 percent in April with declines in 8 of 11 sections. Imports from the United States decreased 1.4 percent, mostly on lower imports of passenger cars and light trucks. Exports to countries other than the United States decreased 3.0 percent mainly on lower shipments to the United Kingdom (crude oil), Saudi Arabia (other transportation equipment), Japan (coal) and South Korea (aircraft and coal). These decreases were partially offset by higher exports to China (crude oil), Hong Kong (unwrought gold) and the Netherlands (coal and diesel fuel). Imports from countries other than the United States fell 4.3 percent in April, mainly on lower imports from China (computers). This follows record imports from China in March. As a result, Canada's trade deficit with countries other than the United States narrowed from C$6.0 billion in March to C$5.5 billion in April.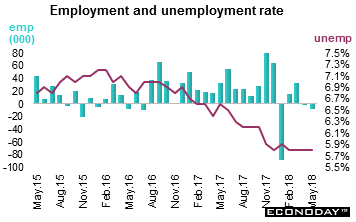 May employment surprised and declined 7,500 — expectations were for an increase of 25,000. This was the second consecutive month that employment was down (April employment declined 1,100). The unemployment rate remained at 5.8 percent for the fourth month. Full time employment tumbled 31,000 while part time employment added 23,600 jobs. Private sector jobs were down 4,800 while public sector employment was 12,900 higher. The goods sector lost 29,000 jobs but services managed to add 21,500. The participation rate slipped to 65.3 percent from 65.4 percent.
Equities in Asia and the U.S. advanced on the week while those in Europe tumbled. Nervousness leading up to the Group of Seven meeting in Canada and the summit between the U.S. and North Korea kept investors on the sidelines. Economic data on the week were mixed. The Reserve Bank of Australia maintained its policy interest rate while the Reserve Bank of India increased its policy rate by 25 basis points.
This coming week, aside from the U.S./North Korean summit, will see three central banks determine their respective policies. The Federal Reserve meets Wednesday, the European Central Bank on Thursday and the Bank of Japan, Friday. Only the Fed is expected to increase its fed funds interest rate. The UK releases a slew of data including the consumer and producer price indexes, labour market report and retail sales. China posts industrial output and retail sales.
Central Bank activities
June 12, 13
United States
FOMC Monetary Policy Announcement
Fed Chair Press Conference
June 14
Eurozone
European Central Bank Monetary Policy Announcement
June 15
Japan
Bank of Japan Monetary Policy Announcement
The following indicators will be released this week...
Europe
June 11
Italy
Industrial Production (April)
UK
Industrial Production (April)
Merchandise Trade (April)
June 12
Germany
ZEW Business Survey (June)
UK
Labour Market Report (May)
June 13
Eurozone
Industrial Production (April)
UK
Consumer Price Index (May)
Producer Price Index (May)
June 14
UK
Retail Sales (May)
June 15
Eurozone
Merchandise Trade (April)
Harmonized Index of Consumer Prices (May final)
Asia Pacific
June 11
Japan
Machinery Orders (April)
June 12
Japan
Producer Price Index (May)
India
Consumer Price Index (May)
Industrial Production (April)
June 14
China
Industrial Production (May)
Retail Sales (May)
June 15
India
Merchandise Trade (April)
Americas
June 15
Canada
Manufacturing Sales (April)
Anne D Picker is the author of International Economic Indicators and Central Banks.